We're just going to rip the band-aid off: next month, Ladies Get Paid is moving off Slack. Yep, you read that right.
Slack has been profoundly important to the growth and success of this community. Over 95,000 women have signed up to join and over 2 million (!) messages have been exchanged. Hundreds of millions of dollars of raises have been negotiated. Thousands of Ladies Get Paid members have hired each other and found jobs. Countless businesses have been born out of this space. And we have to confess, we love imagining all of you toggling between your work Slack and the iconic Ladies Get Paid money scrunchie 🙂
But all that said, Slack is no longer serving the needs of this big, beautiful, and vibrant community we've all built together, so we're moving onto bigger and better things. A brand new platform for you to connect more deliberately, efficiently, and meaningfully, so you get even more value out of being part of Ladies Get Paid.
Here are some things we love about this new space:
Member Directory
Ever feel like you're sending a note into the ether when you're trying to find someone to connect with? Good news: we'll now have a Member Directory where you can easily find and connect with anyone in our community. You'll also be able to message folks directly, and there's even a group chat function!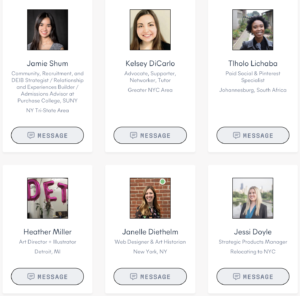 Forums
You may have noticed that messages are getting deleted from Slack. That's because we're on the free plan (not trying to break the bank!), and so only the most recent 10,000 messages are available. Because this community is so active, and with particularly high engagement in the jobs, advice, and general talk channel, what happens is that the rest of the channels – like industry or location-specific – are empty (even if people posted in there!) On our new platform, nothing will ever be deleted, so you can search historical messages and have even more opportunities to build meaningful connections with other women in the community on a wider range of topics. The new platform also has a centralized feed, making it easy to view the content in all the channels you subscribe to.
Most importantly: Home Sweet Home
This is what we're really most excited about: finally having one unified home for everything Ladies Get Paid. The new platform will be like a one-stop-shop; you'll be able to browse our events, keep up to date on announcements, connect with other members, and view our entire video library, all in one place. Plus we'll have even more ways to bring experts into the community to answer all your most pressing work and money questions.
BONUS! We're *~finally~* launching a paid membership. This will allow you to attend all events for free, access to our entire video library (over 100+ hours), join a members-only directory with curated networking, be featured on our channels, and participate in monthly, small group coaching with Ladies Get Paid Founder Claire Wasserman and special guests. There's so much more coming so keep an eye out for when we launch.
So what's next? What does this all mean?

We'll be holding a Community Town Hall this Friday, August 20th to walk everyone through the new platform and take all your questions. You can RSVP here.
We'll officially be launching the new network the week of September 20th, when we'll start sunsetting Slack. We won't shut it down right away, so you'll have time to transition on to our new platform. Keep an eye out for us for a FAQ in the coming weeks with more specific information.
We're so excited to take this next step forward with you. This community has come so far already, and we know this will unlock so much more value and potential for the community, and we can't wait for you to see it.
Speaking of which, if you would like early access to our new platform, fill out this form and we'll hook you up with an invite 🙂
Here's to getting paid, together.
Clarie,  Ashley + Team LGP

PS: Yes, it's still free! But we do hope you'll consider becoming a paid member when we launch 👩‍🎤