Master the Art of Landing Your Dream Job
Unlock Your Full Potential: Confidently Navigate the Job Market with Proven Strategies & Expert Guidance
🎁 Now with NEW BONUS CONTENT🎁
Welcome to "Master the Art of Landing Your Dream Job," where you'll embark on a transformative journey to unlock your full potential, take control of your career, and learn how to land your dream job. This course is specifically designed for ambitious women who are ready to confidently navigate the job market with proven strategies and expert guidance.
If you're tired of feeling overwhelmed, frustrated, and stuck in your job search, this job hunting strategies course is for you. We understand the challenges you face, and we're here to empower you with the tools and knowledge you need to overcome them through our masterclass for job hunting.
In this comprehensive course, you'll learn:
✅ How to navigate the complex job market and stay current with its trends
✅ Resume and cover letter techniques that make you stand out from the competition
✅ Powerful networking strategies to expand your professional connections
✅ Effective interview preparation
Led by Ladies Get Paid Founder Claire Wasserman, this course is structured to provide you with a step-by-step roadmap to how to land your dream job. Each module is designed to build upon the previous one, ensuring a seamless and empowering learning experience.
Module 1: Discovering Your Place in the Job Market
In this module, students will learn how to navigate the complexity of the job market and define what kind of opportunities are right for you.
Topics covered include:
💼 Defining your values, must-haves, and deal-breakers for your next opportunity
💼 Setting goals to keep you on track in your job search process
💼 Developing a job search strategy tailored to your unique goals and strengths
Module 2: Crafting a Standout Resume and Cover Letter
In this module, students will learn how to navigate the complexity of the job market and define what kind of opportunities are right for you.
You'll learn:
💼 How to tailor your resume and cover letter for each job application
💼 Actionable tips for highlighting your most relevant accomplishments
💼 Techniques for crafting compelling narratives that engage recruiters
Module 3: Expanding Your Professional Network
In this module, you'll discover the power of networking in advancing your career.
Lessons include:
💼 Identifying and connecting with key players in your industry
💼 Building and nurturing mutually beneficial relationships
💼 Leveraging social media platforms to expand your network
Module 4: Acing the Interview
In the final module, you'll master the art of acing the interview.
Topics covered are:
💼 Preparing for common and challenging interview questions
💼 Developing a confident interview presence with effective body language and communication
💼 Learning the best questions employers want you to ask
🎁BONUS: LinkedIn Profile Makeover Checklist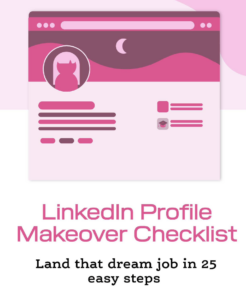 Did you know that people with All Star LinkedIn Profiles are 50x more likely to be contacted by recruiters?
We put together everything you need to level up your LinkedIn Profile in 25 easy steps. All-Star status will be yours before you know it!